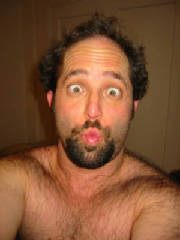 NON-EQUITY
HEIGHT: 5'2"

WEIGHT: 145 lbs
HAIR: Brown/Bald
EYES: Hazel
VOICE: Tenor/Baritone
THEATER:

ROLE

COMPANY

DIRECTOR

The Most Fabulous Story Ever Told

Birthday
Trey/Pharoah/Dad/Rabbit




Benny Williams
Left Coast Theatre




Left Coast Theatre
Neil Higgins




Andrew Calabrese
Come Here Often (1998)
Ralph
Left Coast Theatre
Chris Maltby
Morning After The Prom
Stephen
Left Coast Theatre
Terry Maloney Haley
$wampland
Dongle/Officer Braddock/Cam/Bannon
PCSF- SF Fringe Fest 2017 @ the Exit
Wesley Cayabyab
Twilight Zone- I Dream of Genie
Dirk J Irk
Dreams on Rocks Twilight Zone Parody show @ Piano Fight
Melinda Bailey
What Happened at Church
Husband
Pint Sized Plays- Piano Fight
Vince Faso
San Francisco, Here I Come!
Emperor Norton
Left Coast Theatre
Richard Ryan
Jerusalem
Wesley
Second Wind Productions
Misha Hawk- Wyatt
Twilight Zone- Harsh Mistresses
Harry Balls
Dark Room SF
Melinda Bailey
Book of Liz
Brightbee/Yvonne/Donny/Rudy
CMTC (Custom Made Theatre Company)
James Nelson
Sleeping Beauty, or Coma
Anthea Arlo
Virago Theatre
Dale Albright
Vampire Lesbians of Sodom
Hujar/Zack
Virago Theatre
Dale Albright
Picasso at the Lapin Agile
Sagot
Actors Ensemble Berkeley
Anna Andersen
Eurydice***
Little Stone
CMTC (Custom Made Theatre Company)
Katja Rivera
Parade of Stars at Club Hernandez
Henri Toulouse Lautrec
Theater Festival SF
Doug Marshall
Merchant of Venice
Prince of Aragon/Salerio
CMTC (Custom Made Theatre Company)
Stuart Bousel
A Hot Day in Ephesus
Duke
Actors Ensemble Berkeley
Bruce Coughran
Candide of California, or Optimism Part 1
Orator/Castrati/ Martin/others
CMTC
Brian Katz
Road Trip To Pluto
Terry Gross NPR Host
Bitter Show: SF Fringe Fest 2010
Jody Handley
Gem of the Ocean
Rutherford Selig
Multi-Ethnic Theatre
Lewis Campbell
Androcles and the Lion
The editor
San Francisco Free Civic Theatre
Glenn Havlan
The Diary of Anne Frank
Mr. Kraler
Custom Made Theatre Company
Leah Abrams
Museum
Mr. Hollingsford/Mr. Moe*
Boxcar Theatre
Stephanie Renee Maysonave
Maidrid's Bow
Praxis/Tursus/Melda
Wily West Productions
David Stein
Goebbels! Live from Hell! One Night Only!
Beelzebub
Bay Area One Act Festival 2010
Jennifer Daly

Orchards

Drowning
Stephen
CMTC (Custom Made Theatre Company)
Gabriel Grilli

Orchards

Vint
Psulin
CMTC (Custom Made Theatre Company)
Leah Abrams
Pride & Succubus
Mr. Beenthere
Thunderbird Theatre Company
Max Bernstein
The Odd Couple
Vinnie
CMTC
Leah Abrams
What Where/Ohio Impromptu
Bom/Listener
CMTC
Leah Abrams
Judgment at Nuermberg
Dr. Geuter
San Francisco Free Civic Theatre
Glenn Havlan
God
Actor: Diabetes & Slave: Phidipidies
CMTC
Christopher Jenkins
Death
Madam Spiro's Assistant
CMTC
Christopher Jenkins
The Exception & The Rule
Leader of 2nd Caravan
CMTC
Lewis Campbell
The Insect Comedy
Mr. Dung Beetle
San Francisco Free Civic Theatre
Glenn Havlan
Just Desserts!
Allen
48th Ave. Prod.@The Shelton Theatre
Frank Gigliotti
Sincerity Forever
Furball #1
CMTC
Jon Bailey
Sleep Till Noon
Sam Hiff/Archer Geddes
San Francisco Free Civic Theatre
Glenn Havlan
Puss-in-Boots Meets Rapunzel
Rapunzel/Splish
Pudding Club Panto
Pamela Barnes
Wrestling An Alligator
The Business Man
SF Fringe Festival 2004 @Exit on Taylor
Ed Champion
The Cheever Tapes
Sam Greenblatt
Killing My Lobster @The Magic Theatre
Emily Lou
The Inspector
Pytor Ivanovich Bobchinsky
San Francisco Free Civic Theatre
Glenn Havlan

COLLEGE:

Street Scene
Officer Harry Murphy
San Francisco State University
Jenny Lord
The House of Yes
Anthony
San Francisco State University
Vadanak Ke
The Skin of Our Teeth
Homer
San Francisco State University
Jacqueline Peters
A Night at Le Petit Orange
Charles Belforswear
San Francisco State University
Tommy Afsari
The Food Chain
Otto Woodnick
San Francisco State University
Jaclyn Chan
A Funny Thing Happened On
The Way To The Forum
Erronius
San Francisco State University
Byron Peter
To Mimi's House We Go
Mark
San Francisco State University
Bill Peters
Merchant of Venice
Lancelot *
Screen Actors Academy Players
Joe Halcott

READINGS: STAGED AND DEVELOPMENTAL

Pasiphae
Daedalus / The Minotaur
SF Playwrights Center Dev Reading
Charles Lerrigo
Thinner Than..Triton
Nereus
SF Olympians Festival VI: Wine Dark Sea
Cecilia Harrison
Silent City
Peter*
Tripleshot Productions
Bahati Bonner
Batman Live
The Penguin
A Darkroom Production
Jim Fourniadis
Dominion
Amit
SF Playwrights Center Dev Reading
Alan Olejniczak
Anomie
Detective Argos
SF Playwrights Center Dev. Reading
Gaetana Caldwell-Smith
An Ear for Voices
Travis Voiceover
SF Playwrights Center Staged Reading
Alina Trowbridge
Hold Your Piece
Marcus
SF Playwrights Center Staged Reading
Jerome Joseph Gente
The Pennsylvanian (The Reunion)
Macon
Dramatist Guild Staged Play Night
Robert Lundy-Payne
The Shunned House (adaptation)
Carrington/Archer/Chorus
SF Theatre Pub's: HP Lovecraft Festival
Kai Morrison
Dionysus
Police Officer/Mission Hipster
SF Theatre Pub's: SF Olympian Festival
Nathan Tucker
TRAINING:
Acting: Camille Howard, John Adams, Ron Jesse, Bill Peters
Audition Technique: Lynbarbara Mahler, Byron Peters
Musical Theatre: Byron Peters
Movement/Modern Dance: Camille Howard, Alicia Pierce
Coaching: Dana Lewenthal Improv- BATS Improv: Craig Neibaur
Voice: Jo Tomalin, Alissa Deeter
Fight Training: Jon Bailey
Voice Over - The Voice Factory: Taylor Korobow, Denny Delk, C.W. Wolfe, Mary Delorenzo, Blancett Reynolds
EDUCATION:
B.A. (Cum Laude) Theatre Arts Performance: San Francisco State University B.A. (Cum Laude) American Sign Language Interpreting in Deaf Studies: California State University Northridge
SPECIAL SKILLS:
Fluent in ASL, Singing (Tenor/Baritone), Cartoon Voices, Photography, Car (standard/automatic), Roll Tongue, Cross Eyes, Signature Spin.
* Performance in American Sign Language ** Staged reading
***SF BATCC Nominee Best Ensemble and Nominee Best Production